Carpenter ants can enter homes around door and window frames, eaves, vents, plumbing and utility lines, and shrub or tree branches that make contact with the house.  Once inside the home they can cause devastating damage.
Did you know that:
Carpenter ants range in size from 1/4″ to 1/2″, often the queen is even larger.
They are mainly dark brown or black, but may have some slight red coloring.
They prefer moist, wet or decaying wood, but will nest in dry wood as well.
They don't actually eat wood, but hollow out galleries to nest in.
Damage increases as they expand their living areas, hollowing further and further.
Colonies can be long lived and contain thousands of ants.
Winged ants are call "swarmers" and are the reproductive ants.
The Queen's duty is mainly to lay eggs.
Males are few and short lived.
Workers do the foraging, caring for the queen & brood, and excavating galleries.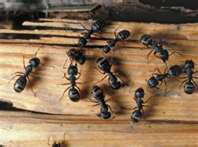 Signs of carpenter ant infestation can include…
"Frass – the sawdust like shavings which contain wood, soil and insect body parts, expelled from ant galleries.
Small openings in wood, used to eliminate unwanted material from the nest.
Rustling sounds coming from the wall as ants remove wood from their expanding nest.
Take action today and make sure these pesky little critters CAN'T move in!
Sterling Insect & Lawn Control can help keep the ants from destroying your valuable investment.
Call (207) 767-555 today to get started!