There are two types of snow mold – grey and pink.
Grey snow mold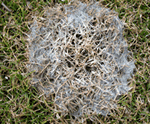 Has tiny black mycelia masses on the blades.
Rarely damages more than the blade of the grass and recovers quickly.
Usually only occurs after prolonged snow cover.
Pink snow mold     

May look like white cobwebs initially, then matures to a faint pink color.
May invade the crowns and roots of the grass.
Can occur in cool, wet conditions even in the absence of snow.
Snow mold can be a sign of one or more of the following:
A lot of snow cover over the winter.
The lawn wasn't mowed short enough in the fall.
The soil is wet and holding moisture.
The soil is lacking nutrients needed to combat the fungi.
Snow mold can be minimized by:
Avoid excessive nitrogen in the late fall.
Mow the lawn late into the season, so it doesn't lay over itself.
Clean up leaves in the fall.
Manage thatch to avoid having more than 2′ (less than 1/2″ is ideal).
Sterling Is The Solution (@07) 767-5555