Silverfish like to eat matter that has a high starch content.  Some examples of what they will eat include:
Paper
Cereals
Beef
Oats
Sugar & flour
Clothing & fabric
Molds & fungi
Wallpaper
Glue & paste
Book bindings
Magazines
In the house silverfish can be found in…
Basements
Sinks
Tubs
Bookcases
On closet shelves
Behind baseboards
Behind wallpaper
In window & door frames
In crevices of walls and floors
Did you know that:
Silverfish are about 1/2″ – 1″ long.
Their bodies are broad at the head and taper down towards the tail.
They have long, slender, flattened bodies covered with shiny silver scales.
They have 2 antennae at the head and 3 long appendages at the tail.
Silverfish are extremely fast.
A female can lay up to 100 eggs during her lifespan.
They live on average about 3 years, but can live up to 8.
When silverfish first hatch they lack scales, are about 1/20″ long, and are white in color.
They can live for up to 1 year without eating.
They prefer dark, moist environments.
They can cause moderate damage in homes, due to where they feed.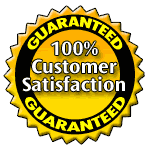 Sterling Insect & Lawn Control (207) 767-5555