In the 40's and 50's clover was a common component of lawn seed mixes.  As a result, it is one of the most common weeds today.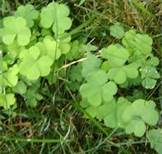 Did you know that:
Clover can be a perennial or an annual weed, depending on the species.
There are many varieties of clover.
White and red are the 2 major varieties.
Its flowers attract bees and other insects.
Clover is a shallow rooted weed with creeping stems and roots at the nodes.
It reproduces by seeds and by creeping stolons.
Clover does not do well in acidic soil.
It can be an indication that the soil is lacking in nitrogen.
It can tolerate a wide variety of soil conditions.
It is capable of fixing its own nitrogen, which enables it to thrive in unfertilized areas.
Clover grows well in..
Temperatures of 50-85 degrees
Nitrogen depleted soil
In moist areas
Below are some cultural ways to control clover:
The primary control against clover is to make the lawn healthier to out-compete the clover.
Let the grass grow taller – clover dies out in shade.
Increase nitrogen and decrease phosphorous.
Aerate and over-seed for proper drainage and to thicken the turf.
Don't be run over with clover…
Call Sterling Insect & Lawn Control (207) 767-5555